On both my entries page and friends page bullet points overlap the usericon in posts. It happens in both Firefox and Safari, i haven't looked at it on my laptop to see if it happens in IE.
FF -
Safari -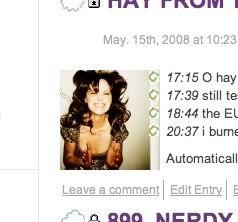 I haven't made changes to my layout myself (i hope it's ok to post here if i haven't?). I'm using a paid account. Also the entry i capped was sent from loudtwitter.com but the same thing happens if i make bullet points in rich text myself, and as i said it happens on my friends page too.
Does anyone know why bullet points are aligning weirdly for me in Expressive?